SolarScreen daylight filters are products of 'Glasfolie Suncontrol'
Glasfolie Suncontrol is specialised in manufacture interior blinds, based on metallized polyester foil. The Solarscreen daylight filters and panel systems are made of high-quality metallized foil. These products have a very high reflection of the solar energy. Therefore the daylight filters are applied to indoor blinds. They have the same heat resistant properties as outdoor blinds.
Because of the unique range of products, operation variants and the proper functioning, the SolarScreen daylight filters are a frequently asked alternative of serviceable outdoor shading systems.
We got a large variety of systems. This makes the daylight filters can be used in almost every situation. All systems are compact and unnoted mountable. Besides, the materials are maintenance free and resistant to moisture.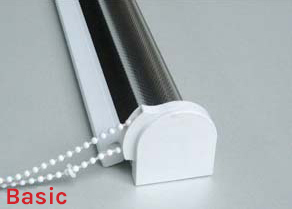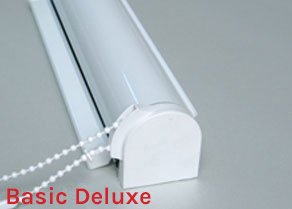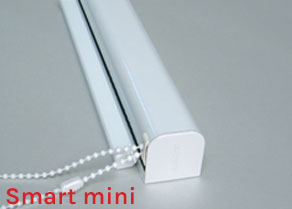 SolarScreen Roller Shades
Description
Solarscreen daylight filters are made of aluminium cassette of 43×43 mm or 53×57 mm including a construction with metallized foil.
An aluminum sub-profile stabilizes the film and ensures a reliable and smooth operation system.
Additional the system can be provided with an U-shaped aluminum or Perlon side guide.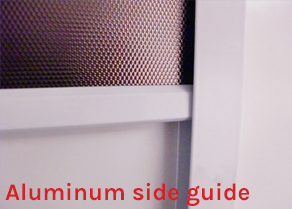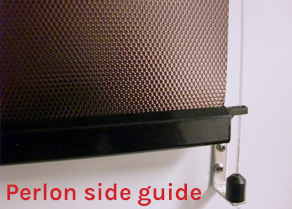 The system and the side guides can be installed on existing frames and hung windows, available in any RAL color.
SolarScreen Daylight filters are suitable for all types of glazing and available in several versions:
BASIC:
The dimensions of basic system is 53×57 mm and equipped with spring- and chain control. The systems are also motorised and available in many versions. The roll-on height has a maximum of 300 cm.
BASIC XL:
For large window surfaces the there is a Basic XL system. The dimensions of this system is 110×112 mm. Futhermore this system is similar to the basic system. The maximum roll-on height of this system is 450 cm. The maximum width of Basic XL is 450 cm.
BASIC (XL) DELUXE:
This system gets delivered with cassette. This cassette provides a brush system which cleans the film when used.
SMART MINI:
The Smart Mini (33×33 mm) is suitable for smaller windows. This system has a roll-on height with a maximum of 200 cm and a maximum width of 160 cm. The Smart Mini comes with a cassette, an endless chain control and self locking.
SolarScreen Panel systems
Applications
SolarScreen panel systems are suitable for vertical glass surfaces and doors in large dimensions. Sometimes the window surfaces are to big for SolarScreen shades. The panel systems are a perfect alternative.
Description
The lamellae rail is made of anodized aluminum and even available in any RAL color. The SolarScreen lamellae themselves are made of strong metallized film. The lamellae hang tightly downwards with weights. The rail has a maximum width of 6500 mm and the lamellae have a maximum length of 3500 mm. The lamellae are available 127 mm or 89 mm width and can be integrated into a cove or a ceiling system.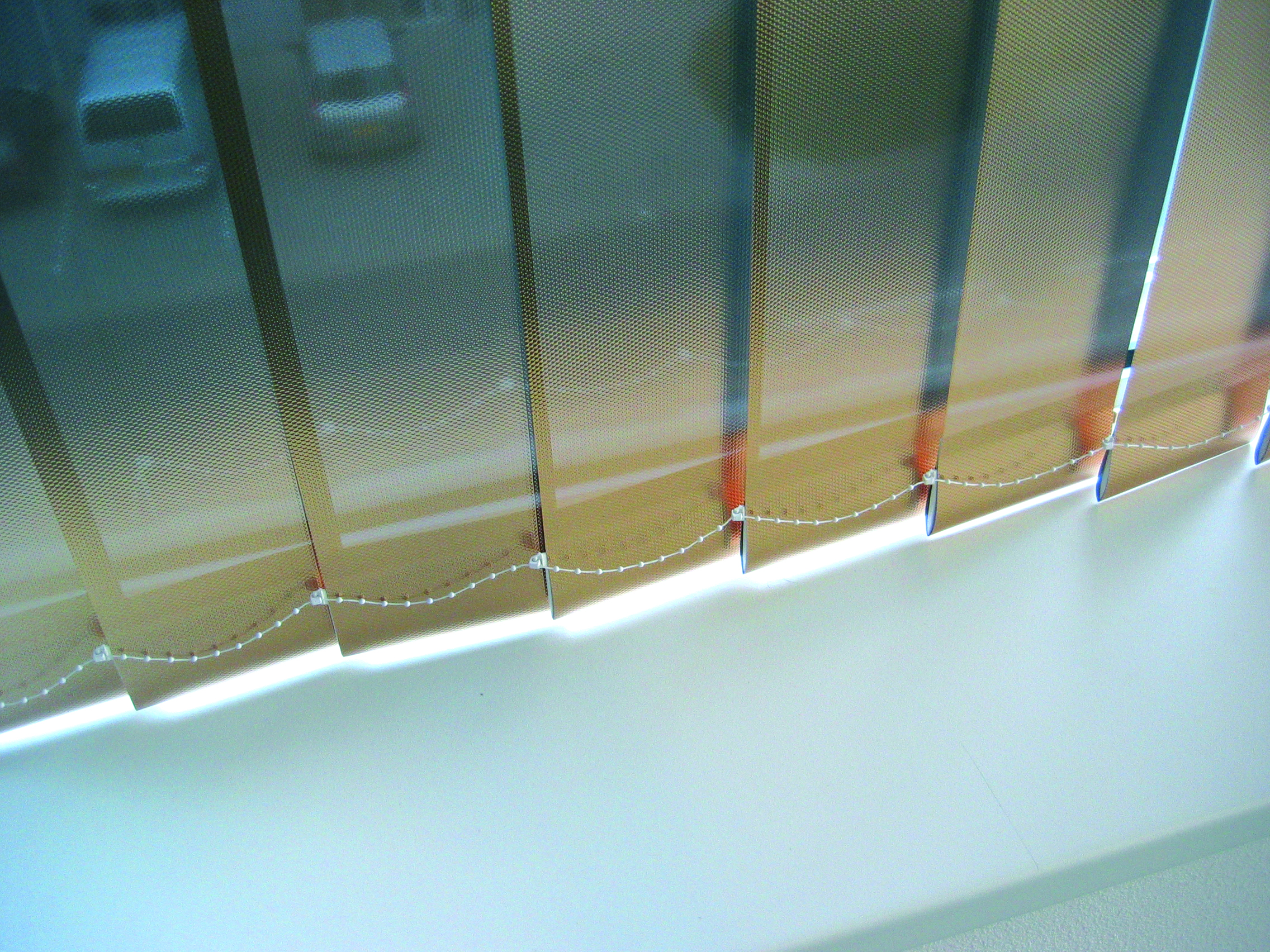 Physical building properties

Solarscreen systems get mounted on the inside behind the glass. Depending on the kind of film and glass, the sun accession factor can be 11% behind white insulating glass. The improved insulation value in the winter can be achieved by the reflection and the cavity behind the glass.
Solar Energy %
 

REFLECTION

ABSORPTION

TRANSMISSION

ZTA

LTA

colour

WHITE GLASS

8
14
78
79
87
does not apply

SILVER 20 STANS

57
24
19
25
23
Silver / silver

GREY 20 FLAT

15
59
29
44
13
Anthracene

BRONZE / SILVER 15 STANS

51
41
8
23
17
Silver / brass

GREY / SILVER 15 STANS

50
43
7
26
16
Siver /  anthracene

BRONZE / SILVER 5 STANS

 63
34
3
13
05
Silver / dark brass

GREY / SILVER 5 STANS

66
32
2
11
05
Silver / dark anthracene

BLUE SILVER 15 STANS

60
27
13
20
12
Silver / blue

GREEN SILVER 15 STANS

62
25
13
20
14
Silver / green

BLACK SILVER STANS

83
17
0
5
0
Silver / black 
(Blockout)

WHITE SILVER STANS

84
16
0
5
0
Silver / white (Blockout)
Glasfolie Suncontrol has carefully documented the figures for you. We do not take responsibility for unexpected false entries.
UV TRANSMISSION


All the types we just listed show less than 5% ultraviolet, measured at a radiation in a field of 280 – 380 mm.
LTA (DAYLIGHTING)
The"LTA" shows the amount of visible, transmitted light.
The lower this percentage, the less light is transmitted.
ZTA (ABSOLUTE SOLAR FACTOR)
the absolute solar factor is the ratio of the amount solar energy passing through a glass surface and the amount of solar heat which falls on the glass surface and radiates inwards.
Clean:
The screen made of strong polyester film is resistant against cleaning. The best cleaning solution is clean water with a dash of household vinegar. Best tools: a clean sponge and a chamois. Beware of sands. We provide a detailed cleaning instruction when we deliver the systems. 
Dimensions: We provide screens of 50 cm or less, up to 3 meters wide or 3,5 meter high and customized. If u need a width/height larger than 182 cm, it is necessary to make a weld in the material. At extra cost we provide a cassette (in any RAL color).
Technical data
Thickness: the film is circa 3,0 mil (75 micron) and potential provide with firming punch.
Light fastness: window film screens do not discolor; the light fastness is all-time. 
Control: the control is left or right provided with a cord. The screens are also provided with an electric motor with a switch of wireless remote control.
Side guide: standard side guide is unnecessary. At extra cost a side guide is available for opening windows. 
Warranty: Glasfolie Suncontrol gives a warranty of 5 years on the systems and the quality of our mounted window film screens on the inside.