SolarScreen Daylight Filters exist from a solid metallized polyester film, especially developed for heath and daylight prevention for offices and other accommodation areas. This with the characteristic of maintaining the transparency; especially for the improvement of the working conditions and computer workstations, creates a unique and innovative product:
SolarScreen Daylight Filters: The new blinds systemilters: The new blinds system;
Maximum heat prevention in the summer
– Keeps heat inside in the winter
– Prevents screen reflection
– Unobstructed view outside
SOLARSCREEN DAYLIGHT FILTERS KEEP THE HEAT OUTSIDE AS GOOD AS BLINDS!
SolarScreen Daylight Filters have more advantages:
– The Glass Foil Daylight Filters are provided of a firming punch.
– The Daylight Filters are very sustainable and extraordinary elegant.
– The Daylight Filter can also be provided with a pleat to make the product even more stable.
– Solar Screen Day Filters do not deform by absorbed heat or cold.
BASIC 

The system Basic has the dimensions 57×57 mm and is provided with spring or chain control. The systems are also motorized in many systems available. The roll-on height of this version is maximal 300 cm.
BASIC XL 
In addition there is for large window surfaces the system Basic XL, this system has the dimensions 110×112 mm, further it is equal to the system Basic. The maximal roll-on height of this system is 450 cm. The maximal with of Basic XL is 450 CM.
BASIC (XL) DELUXE
This system is delivered standardly with a cassette, this cassette is provided with a brush system that cleans the film when it goes up and down.
SMART MINI
The type Smart Mini (33×33 mm) is suitable for smaller windows. This system has a roll up height of maximal 200 cm and a maximal with of 160 cm. This system is standardly delivered with a cassette and an endless chain control and is self-locking.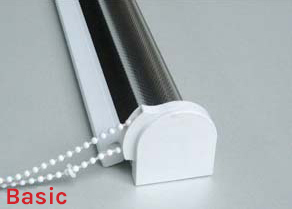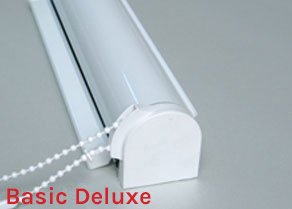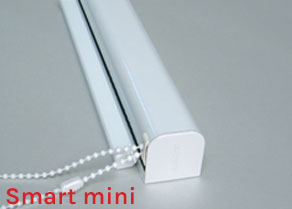 Application Possibillities: 
By the delicate dimensions and the various control options can SolarScreen roller shades practically be assembled anywhere. In most cases assembly can be realized without the use of screws.
*Also on vertical, horizontal and slightly inclining glass surfaces is the assembly executable.
*Even triangle and trapezoid shaped glass surfaces can be provided with a SolarScreen Daylight Filter.
Control Possibilities:
SolarScreen Daylight Filters in roller shades are both hand- and electric controllable. Manually controlled systems can be provided with a spring or endless chain, while the electric control can be managed by all possible systems like individual switches, group control, timer control, temperature dependant control and remote control.